I am sure the majority of bloggers are buzzing about this family already, and I am going to follow the trend!
http://www.msnbc.msn.com/id/24537885&GT1=43001
So this couple has 17 (OMG) kids and she is pregnant with baby number 18 (yes, you read that right, eight-teen). The mom is Michelle and the dad is Jim Bob. And they live in Arkansas.
"To date, the Duggars' 17 natural children range in age from 20 years to 9 months. Included in the mix are 10 boys and seven girls — Joshua, twins Jana and John-David, Jill, Jessa, Jinger, Joseph, Josiah, Joy-Anna, twins Jedidiah and Jeremiah, Jason, James, Justin, Jackson, Johannah and baby Jennifer, who arrived last Aug. 2.
With two sets of twins, Michelle, 41, has gone through 15 pregnancies that ended in 13 natural deliveries and two Cesarean sections. "
"The family grocery bill is $2,000 a month. Transportation is provided by nine vehicles, including a 21-passenger bus. To get through a week requires 63 loads of laundry, six gallons of milk, 15 dozen eggs, 12 boxes of cereal and 12 rolls of toilet paper." They are also debt free.
~~TMI ALERT--Feel free to skip this paragraph because I am going to talk VAGINA for a minute~~
Ummm, yeah, this poor woman's vag must be a disaster! I understand that it is designed to stretch out and all that. But I have given birth to 2 kids and my girly bits are NOT like they used to be.
~~Borrowed from BH post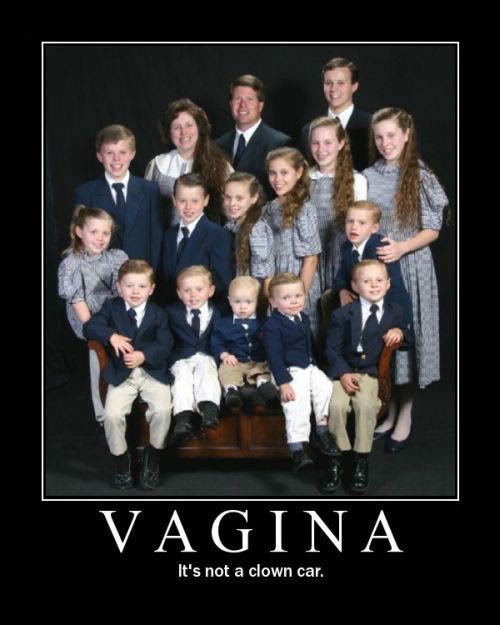 I wonder if she had meds during all of those births. Or went non-medicated. Hospital or home birth? Well, duh for meds on the c-sections. I am talking all 13 vaginal births. With both of my kids I was medicated. Heavily. And I am not ashamed about it in the least. With Monk Man I started off with the Narcotics and then went to a spinal block. With Bobblehead I went straight for the epidural. I am a wuss and go into convulsions over a paper cut. I can not imagine having a baby without some kind of medication.