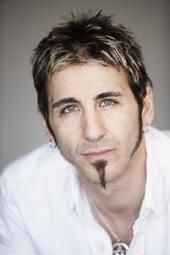 Sully Erna from Godsmack
I have been listening to Godsmack since I first heard Voodoo, many many years ago. I never paid attention to what the band looked like. It wasn't a big deal since looks don't affect how the music sounds.
Well yesterday I heard Godsmack's new song, Whisky Hangover, and wanted to know what the band has been up to. I went to their website for the first time (which is pretty neat) and started browsing. Ran across the band photo gallery and was amazed.
Hotnessssss. I have always had a weakness for musicians though.
The tattoos, the piercings, the hair, the motorcycles. And that voice! Who would have thought that THAT voice would come out of that dude. Totally not what I expected.
I am going to stop before I sound like a crazy, stalker fangirl. Shudder. BTW, their new song was released in anticipation of the Crue-Fest 2. No new album yet, unless I skipped over something while I was reading.